Exactly like we do at Zingerman's Deli
When Ari Weinzweig and Paul Saginaw started talking about opening a deli, over 40 years ago(!), they had a clear vision for the experience guests would have eating one of their sandwiches. As Val Neff-Rasmussen, marketer at Zingerman's Mail Order, described it in an ode to our Ruebens:
"They wanted to serve sandwiches so stacked and packed that you'd have to use both hands to eat them. The dressing would drip down your arms. The food would be so good that every bite would make you stop in your tracks."
We think we're on the right track, because we sure make a lot of Reubens—more than 40,000 of our classic, corned beef Zingerman's Reubens every year, in fact! And now, we're making it possible for you to make what Food and Wine dubbed "the best sandwich in America" in the comfort of your kitchen with our Reuben Sandwich Kit. But first, a little more on what makes our Reuben sandwiches unique.
The Ingredients that Make Our Ruebens Special
We believe that better ingredients make better sandwiches, which is why we've worked to select the very best ingredients to make our Reubens at the Deli. Here's what goes into each and every Reuben we serve:
The bread that's been an important building block of thousands of Reuben sandwiches at Zingerman's Delicatessen since the Bakehouse opened in 1992, made with a high percentage of rye flour, a natural rye sour that's fed daily with freshly milled organic Midwest rye, and and "old" a mush made from leftover rye bread and water (a step usually skipped in modern-day baking). When you order the Reuben kit, you can choose to have your bread machine-sliced, OR, pro-tip: thick slice by hand at home to mimic how we do it (more on that below)!
LeSuperbe Swiss Emmental Cheese
This is the nutty, buttery real deal on all of our famous Reubens. It comes from the AOP-protected Emme River Valley region of west-central Switzerland and exemplifies that undeniable Swiss cheese flavor. 
Sauerkraut from The Brinery
Brinery sauerkraut is made right here in Ann Arbor by masters of vegetable fermentation, led by David Klingenberger, and packs a crunch on many of our Reubens. 
Lean Meats from at United Meat and Deli
We developed our corned beef recipe with Sy Ginsburg about 3 decades ago, and it's been the signature component of our Reubens ever since. Our Reuben Kit comes with lean corned beef, which is a premium, leaner cut of beef (without the marbling of fat that is seen in our classic corned beef) that's hand-sliced by our Deli Meat Mongers. Our classic #2 Reuben is made with corned beef, but our Reuben Kit offers you a choice of meats—if you opt for lean pastrami, you'll be making the #48, Binny's Brooklyn Reuben.  
Zingerman's Russian Dressing
You'll find our housemade Russian Dressing on all of our Reubens (but it's also delicious on salads and used as a dip for veggies).
Zingerman's Pickles
What's a sandwich without a pickle on the side? Whether you go for garlicky "old" pickles or crunchy "new" pickles, either choice is a delicious one.
How To Make a Reuben Sandwich in Ten Simple Steps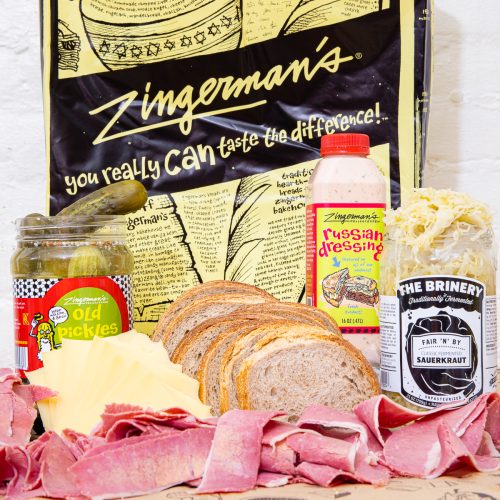 Here's how to use our kit to make a Reuben sandwich exactly like we do, here at the Deli.
Ingredients in your kit
Hearth-baked Jewish Rye bread from Zingerman's Bakehouse
Russian dressing from our kitchen
Emmentaler Swiss cheese
The best cured & cooked meats
Locally-made sauerkraut
A jar of pickles
What you'll need
Aluminum foil
Serrated bread knife (unless we sliced your loaf for you)
Clean towel
2 tablespoons water
Large skillet
1 tablespoon olive oil or room-temperature butter
Knife for slathering dressing
Huge appetite
Heat your oven to 350°F. 

Double-bake the bread: Place your whole loaf of bread in the middle of the oven, directly on a rack, and bake for 15 minutes. (If your loaf is already sliced, wrap it in a piece of aluminum foil.)

Warm up the meat: We like to steam it because it warms the meat up without drying it out. Portion out how much lean corned beef or lean pastrami you want to use for your sandwiches. We use 6 ounces per regular-sized sandwich; you don't have to use that much, though! Place the meat on a piece of aluminum foil, sprinkle it with 2 tablespoons of water, and fold up the foil around the meat. Place the aluminum foil pouch in the oven, alongside the bread, for 10 minutes.

Slice the bread: Take the loaf out of the oven. Careful—it's hot! We like to slice our bread on a diagonal—bigger slices mean you can fit more inside! Grip the loaf with a (clean) towel, roll the loaf up on its side, slice off the end at an angle (somewhere between 30 and 40°, but no need to bust out your protractor), then follow that line and continue slicing. We like to slice ours about 1-inch thick.

Slather Russian dressing on each slice of bread. Don't skimp, make it thick! Add one slice of Emmentaler Swiss, then close up the sandwich.

Heat an empty skillet on medium heat. Brush the outsides of the sandwich with olive oil (or spread with softened butter). Grill each side for 2 to 3 minutes, until the cheese is just melting and the sandwich is toasted to your liking. Remove from the skillet.

Open the sandwich back up and add some sauerkraut on top of the Emmentaler Swiss, then heap the steaming meat in folds on the other side and close the sandwich back up.

Cut the sandwich in half. Like Cary Grant, we prefer to cut it with a bread knife at a North by Northwest angle, the blad running from 10 o'clock to 4 o'clock. Serve with a pickle (and any other desired accouterments).

Sit down, relax, enjoy your Reuben.

Take a serious nap.
Are you ready to make your own outstanding Reuben sandwich at home?