Five Generations of Makin' Bacon
Founder Robert Nueske's grandparents (Wilhelm and Wilhelmina Nueske) came to the small town of Wittenberg, Wisconsin from Prussia in 1882. Shortly thereafter, Wilhelm started to cure and smoke meats in the style of his German heritage—the family recipe has remained essentially the same for nearly a century and a half now! Robert started selling the family's bacon in 1933, and Nueske's is still family-run to this day. Robert's son, Bob Nueske, ran the company until he passed away unexpectedly in 2015, at which point Bob's daughter, Tanya Nueske took over the company. 
We've had the pleasure of getting to know both Bob and Tanya over the years because Nueske's has been an important part of Zingerman's for decades. We've been cooking Nueske's bacon every morning at the Deli since the day we opened in 1982!
There's No Fakin' this Bacon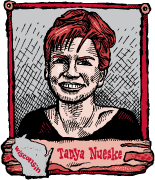 What makes Nueske's bacon so special is a combination of high-quality ingredients—in this case, special pigs and carefully selected wood—and tradition, using a style of smoking that's been maintained for generations. As Bob would say, "Making bacon like ours is like making fine wine. You don't hurry the process."
The Hogs
It's no surprise that bacon this good starts with high-quality hogs, all raised on family farms by a private supplier in Canada that the Nueskes have been working with for over 25 years. Of course, as Tanya explains, it matters how the hogs are grown and fed, too:
…they grow their own feed and use sustainable practices in farming while humanely raising the animals. What the hogs are fed plays a huge part in flavor and quality. We do a feed that's mostly a wheat and corn mixture. 
The Smoking Process
The Nueskes consider every part of the process. From those hogs that they hand-trim themselves, to the custom-designed smokehouses, to the wood used for smoking. The Nueskes cure fresh slabs of bacon in brine for at least 24 hours, hang them to dry for a day or so, and then smoke them for at least another day—enough time for the sweetness of the smoke to have a chance to permeate each cut of meat and impart their signature flavor.
Smokemaster Mike Zoromski designs, builds, and manages Nueske's artisan smokehouses, each one is hand controlled and slightly different from the others. It's a big part of what makes their bacon special, as Mike explains:
Our competitors probably think we are nuts when we keep building single truck houses. They think the way to increase production is to build fifteen truck houses and mass-produce. Well, that's not the way to hold onto what we have done for 80-some years. … We have a 24-hour cycle to get that full flavor; their process is about half that. Our houses are seasoned with a year's worth of smoke on the walls; theirs are cleaned every day. You could probably run product through ours without putting any wood on and they would end up with more smoke flavor than a normal cycle with wood at one of those other places. That special attention that each rack gets in our houses is something that no mass-producing smokehouse could ever duplicate.
And when they say "applewood-smoked," they mean actual logs. Tanya adds, "People should know that 'applewood smoke' can mean almost anything these days—apple juice, apple smoke flavoring, liquid smoke… But we only use real logs of Wisconsin applewood." The Nueskes actually have a team member who's responsible for selecting the applewood (or cherrywood) they use. They buy full trees, not precut logs, cutting the wood as they need it, so they can select for the right balance of dryness and greenness. As Tanya notes, "We're fortunate… when I think back to when my grandparents moved here, we're fortunate that they picked an area with so many apple and cherry orchards."
Three Sizzlin' Flavors
1. Applewood Smoked
Our house bacon at the Deli for over 40 years, and Nueske's top-selling bacon, their applewood-smoked bacon has been on our menu since the day we first opened! And we're far from the only fans. This bacon has won national acclaim from The New York Times, Chicago Tribune, and Wine Spectator magazine and was named a Gold Award winner in the Specialty Food Association's national competition an unprecedented four times. It's sweet and meaty and smoked over real Wisconsin applewood for 24 hours. 
Applewood-smoked bacon is available on our sandwiches and it can be purchased sliced in our specialty foods department to enjoy at home. Look for it on a number of our sandwiches, like #23 Mary's Commute (more below), a chicken salad sandwich that's been on our menu since day one. When tomato season hits, Ari is a fan of building a BLT around the applewood-smoked bacon. 
2. Wild Cherrywood Smoked
In 2008, the Nueske family added a second, equally amazing bacon. It took over five years of testing and tasting to get it just how they wanted it. Smoked over glowing embers of cherrywood logs and made from an all-natural recipe that contains no artificial ingredients. (As a result, Nueske's has to call this one "uncured," because it is "nitrate-free" and only contains nitrates as they naturally occur in the celery juice used to cure the bacon!) This bacon is downright irresistible. Its smoky and subtly sweet flavor is so remarkable it was honored as Outstanding New Product and received a prestigious Gold Award in the Diet & Lifestyle category of the national Specialty Food Association competition. It has a terrific, gently smoky, subtly sweet flavor that goes great with anything you like to do with bacon. 
Cherrywood-smoked bacon is exclusively available to be purchased sliced in our specialty foods department to enjoy at home. Ari likes to add the cherrywood-smoked bacon to pasta along with fresh peas.
3. Smoked Peppered Bacon
Just when we thought Nueske's Applewood Smoked Bacon couldn't get any more delicious, they hand-coated it with a layer of freshly cracked Tellicherry peppercorns. Peppery, but not overpowering, and oh-so flavorful. And yes, this one's an award winner, too. It was honored with a Silver Award in the prestigious national Specialty Food Association competition.
The smoked peppered bacon is exclusively available on sandwiches. You'll find it on awesomely alliterative #88 Peter's Peppered Pick (see below).
Gettin' Your Nueske's Fix at the Deli
You'll find Nueske's bacon on a number of our menu staples like our sandwiches, all made on Zingerman's Bakehouse bread:
#88 Peter's Peppered Pick
All-natural, preservative-free turkey breast, lettuce, tomato, our own ranch dressing, and Nueske's peppered bacon on grilled Farm bread.
#23 Mary's Commute
Our delicious chicken salad (chunks of hand-cut Amish chicken, mayo, onion & celery), Nueske's applewood-smoked bacon, lettuce, and mayo on Challah bread.
#85 J.V.W.'s Detroit St. BBQ
Zingerman's BBQ Amish chicken, Nueske's applewood-smoked bacon, and coleslaw on grilled Farm bread. Served with a side of our amaZing baked beans with applewood-smoked bacon.
#74 Dave's Open Road
Grilled Amish chicken breast, Nueske's applewood-smoked bacon, Wisconsin muenster cheese, our own ranch dressing, and lettuce on grilled Challah bread.
#64 Gitkin's Chicken Rendition
Amish chicken breast, Nueske's applewood-smoked bacon, our housemade roasted red pepper spread, fresh avocado spread, and tomato on grilled Challah bread.
#66 Zingerman's B.L.T.
Nueske's applewood-smoked bacon, leaf lettuce, tomato, and mayo on Jewish Rye bread.
#623 ZCobb Salad
Custom-blended greens, carrots, applewood-smoked bacon, and Amish chicken tossed with our Cobb dressing, topped with a hard-boiled egg, crumbled blue cheese, and slices of fresh avocado.
Those aren't the only items here featuring Nueke's bacon though! You might spot items in our grab-and-go case featuring Nueske's bacon, like our broccoli salad and maple bacon sweet potatoes. Our Catering & Events team makes Bacon and Blue Dates that are filled with a combination of Faribault blue cheese and Zingerman's Creamery cream cheese wrapped in applewood-smoked bacon. And, during the holidays, we carry Nueske's smoked hams.
A whole community of bacon lovers: We're far from the only Zingerman's business hooked on Nueske's. The applewood-smoked bacon is the house bacon at the Roadhouse, too, where you can enjoy it all day long, from your breakfast plate to your burger at dinner. Zingerman's Mail Order ships Nueske's all across the country. And the Creamery's Bacon Pimento Cheese? Yup, that bacon is Nueske's.
Bringin' Home the Bacon
Zingerman's Deli is the only place in Michigan that buys whole slabs of Nueske's bacon to offer cut-to-order bacon by the pound (or by the slice!) at our deli counter; everywhere else, you have to buy pre-sliced and pre-wrapped Nueske's bacon. As Connor Valone, Deli Specialty Foods Supervisor and Meat Buyer adds, "We slice to order, and slice as thin or as thick as guests like. It's a unique service that we think is the best service to the product and to our guests."
Both Nueske's applewood-smoked bacon and cherrywood-smoked bacon are available to purchase at the Deli or online for pickup or local delivery. This means you'll be ready to cook up a few strips to go with your eggs or try one of our favorite bacon-laden recipes:
Dutch Bacon and Gouda Potato Salad
Excerpted and lightly adapted from
Zingerman's Guide to Better Bacon
by Ari Weinzweig
Serves 6 as a side dish
We started making this simple salad at the Deli many years ago now. It's great as a side dish, a picnic dish (you can prepare it a day ahead of time!), or a meal served over mixed greens.
Choose a full-flavored farmstead gouda, of modest maturity—at least 6 months or so. We like to make this with Nuekse's applewood-smoked bacon because the sweet, smoky flavor complements the cheese so nicely.  
3 pounds potatoes, Yukon Gold or German butterballs

10 ounces (about 5 to 7 slices) Nueske's applewood-smoked bacon
1 1/4 cups mayonnaise
1/2 cup Dijon mustard
6 scallions, white and green parts thinly sliced
1/2 pound Gouda cheese, cut into 1/4-inch cubes
Coarse sea salt
Freshly ground Tellicherry black pepper
1 tablespoon cumin seed or caraway seed, toasted (optional)
Place a steamer basket in a large pot and add water until it just touches the bottom of the basket. Place the potatoes in the steamer basket, cover the pot, and turn the heat to high. Once the water is boiling, reduce the heat slightly and continue cooking, covered, until the potatoes are tender, about 25 minutes.

While the potatoes are cooking, fry the bacon in a skillet over medium heat until done. Remove the bacon from the pan, leaving the fat. Chop the bacon into 1/2-inch pieces. 

When the potatoes are done, remove them from the pot, cut them into 1/2-inch cubes while still hot, and place them in a medium bowl.

Pour the hot bacon fat over the potatoes and mix well. Let the mixture rest for about 30 minutes to allow the potatoes to cool and absorb the bacon fat. 

In a small bowl, mix together the mayonnaise and mustard. Pour the mixture over the cooled potatoes and gently toss to coat. 

Add the bacon, scallions, and cheese and toss gently to mix. Season with salt and pepper to taste. Sprinkle with cumin or caraway seeds as a garnish if desired.