At Zingerman's Delicatessen in Ann Arbor we're not just a kid friendly restaurant, we're a kid focused one. We've actually got a team of staff whose job it is to make sure the Deli experience is great for our youngest diners and their families. Good food for everyone, a fun atmosphere and comfortable conveniences are what it's all about when it comes to a family friendly restaurant. Here's our guide to eating meals with kids at Zingerman's Deli!
First The Food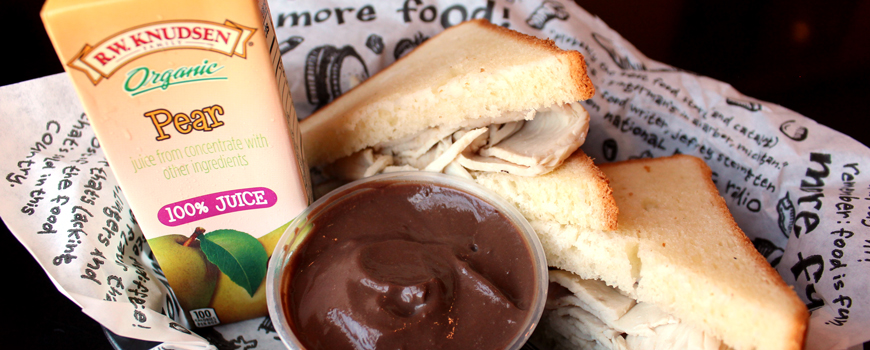 Kids love to have choices. At the Deli, the most popular kids menu picks are simple salami or turkey sandwiches, grilled cheese, vanilla yogurt and house-made chocolate pudding. There are healthy options like fruit salad, hummus and veggies, and homemade applesauce, too. Kids meals include a sandwich on Bakehouse white bread, a drink like milk or juice and a yummy side.
If you've got a budding foodie on your hands, they certainly don't need to stop at the kids menu. We offer dozens of wildly delicious sandwich combinations, salads creations and much more that have made Zingerman's Delicatessen a food destination since 1982. Head over to the meat and cheese counter and let them explore, too. Our knowledgeable staff would love to give them a sample of something they've never tasted before and share our enthusiasm for great food from around the world.
Are you concerned about food allergies? Zingerman's Delicatessen takes allergens very seriously. When placing your order, please make the food allergies in your party known. We can help you choose the best menu options, make substitutions or ensure our kitchen is taking the proper precautions. We're happy to answer questions in advance of your visit.
Things To Do
Parents, you're going to need some extra time to finish your fresser deli sandwich and that slice of pie. The kids will be happily busy, so nosh on!
Play Area
Our outdoor play space is nestled between our patio and the Next Door café. It's safe from the street and enclosed enough that little Houdini's can't easily get out of your site. And they won't want to leave because of the hand-painted interactive mural, the fun toys and the sidewalk chalk.
Coloring Contest
Our staff artists create a special image each month for coloring—or flip it over and there is space to draw your own Zingerman's sandwich creation. Turn your work of art into any Zingernaut to be entered into our contest for a chance to win a candy surprise and your very own discount card to save 18% off any purchases at the Deli for a month. Winning artwork will be on display in the Deli, on our website and be featured in our kids e-newsletter. See our past winners or download coloring pages to print and color at home.
Events & Classes
Don't miss our extra special kids events each month. Storytime for kids ages two to five and tastings for kids four to fourteen are not your average way to spend an afternoon. The kids will be engaged, entertained and educated about food. We'll even show them how professional food tasters do it. Parents get a Deli coupon after the event!
Comfortable Convenience
Did someone miss their nap today? (your toddler, not you. Or maybe both.) Did work and school and soccer practice wipe everyone out? If dining in at the deli not in the cards for your crew today, we've got you covered! Call in your order and pick it up curbside (no need to unbuckle the car seat!) or if you're in our immediate area we'll deliver dinners, sandwiches, groceries and more right to your door. Call 734-663-3354 to order. View our local delivery area.
If you are dining-in we have high chairs, changing tables in all bathrooms, a gender-neutral/family/handicap accessible bathroom and ADA compliant ramps and elevators for strollers and accessibility. If there's anything else we can do to make your visit more comfortable, please let us know!
Keep in touch with our kids email newsletter. We'll email once a month to announce contest winners, new events and other specials.
Sign up for our Kids' Happenings at the Deli Email Newsletter